The opportunities for process improvements across educational institutions are seemingly endless. Both students and staff can benefit from more automated processes, from abolishing repetitive manual tasks to making sure more accessible support systems are available.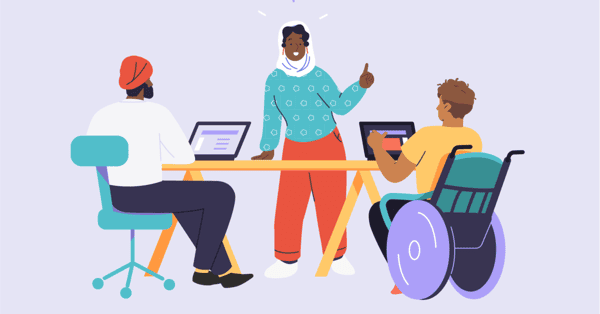 Many assume automation will need a huge budget, cause disruption and take far too much time to integrate. However, that's just not the case. Here's how automation makes educational institutions more efficient and how you can harness its benefits:
Minimise manual tasks
Just like a business, colleges and universities are under immense pressure to increase efficiency and reduce costs. However, they also need to provide students with a quality experience. By harnessing technology, institutions can ease some of the pressures they face.
A report by Formstack found 63% of universities worldwide are using automation tools of some form. Most educational institutions are now using technology to drive their processes and data analysis to guide their decision-making.
Even with innovation happening - as fast as it can in the public sector - most departments are still spending most of their time dealing with repetitive and mundane tasks. Consider some of the tedious tasks involved in enrolment, hiring faculty, running smooth financial operations, managing students' wellbeing, marking and so much more.
With the help of artificial intelligence (AI), chatbots and intelligent platforms, you can manage these repetitive but highly important tasks to supplement the role of institution staff members and students by giving them the tools they need to be efficient, adaptive, interactive and intelligent. Ultimately, this improves every stage of the educational experience.
These adjustments to your systems will spearhead the change needed in education. It'll also improve the efficiency and accuracy of tasks, making staff more productive while reducing their workload. Administrative tasks will be done quicker with fewer errors, sharing of accurate data will also be faster and lecturers will spend more time helping students instead of filling out paperwork.
Move away from outdated processes
The majority of students joining institutions and colleges right now have grown up with technology. A world without computers, smartphones and WiFi access is unimaginable.
They'd rather find their information online through their mobile devices than any other way.
Your institution needs to be fully equipped to accommodate students with this kind of technological know-how. As mentioned previously, most universities are still reliant on manual processes, causing frustration for tech-savvy students.
Although most professors, teachers and students have been quick to adopt technological systems through the use of electronic essays and online student portals, there's still a long way to go. Continuing to hold on to outdated processes can affect your institution's stability, profitability and most importantly, students' experience and trust in you.
Automation for educational institutions may seem like a costly undertaking, but it's worth it in so many other ways than just ROI. It might just be simplifying your reporting process or making sure prospective students receive follow-up emails, simple additions that make all the difference to their wellbeing. Technology implementation has a holistic effect that not only cuts costs and eliminates routine tasks but also creates added value for students and staff too.
More adaptive learning platforms
When paired with teaching, automation can make learning a truly personalised experience. By monitoring students' progression, intelligent programs can automatically adjust curriculum, teaching methods to accommodate their learning styles and identify knowledge gaps.
While all levels of education use this technology, it's increasingly integrated into the learning management platforms upon which many institutions rely, especially when face-to-face learning is out of the question. Students can now take courses online and receive the customised academic support traditionally only available in instructor-led classrooms.
Adaptive learning is both a helpful tool and also an educational game-changer that grants you access to big data.
Contrary to some people's fears, it's important to note adaptive learning won't make teachers obsolete. It actually empowers them to dedicate themselves to a more student-centric approach to learning, making sure those who need that extra help receive it. Students are undoubtedly the key beneficiaries of industry-disrupting tech.
Accessible help for students
Many universities and colleges are moving towards a more automated and proactive system of identifying and prioritising students who need support. This can lead to a more inclusive learning environment and ensure preventive procedures are in place.
Student portals with assignment dates, timetables, course material, pre-recorded lectures and much more can really leverage automation to give students what they need - all without needing the lecturer. And this is just the beginning.
There's a need for innovation and collaboration across all departments in institutions. However, with the Office for Students' (OfS) latest annual review highlighting mental health, hate crime and sexual misconduct as some of the biggest areas of concern, student services should look to scrutinise their own processes.
This is where online platforms excel. Students can't always wait for student services to open and they might want to access support immediately - automation can help to empower them. It's not in place of support, but it's the first step to making sure a student can efficiently report, complain or seek help.
More centralised, data-driven support systems will shed light on systemic issues that leave students at a disadvantage.
Culture Shift is an award-winning online reporting platform created with students at its very core. Our goal is to give any victim-survivor an environment where they can feel safe and listened to. We're committed to ensuring a more inclusive learning environment is available for institutions to adopt.
Although the platform is intuitive, making it more efficient for reporting, it's more about making sure any important issues students have can be addressed quickly.
Automation like this may also allow shared student data and case histories between academic and professional staff, resulting in better targeting of support and resource allocation. The most precious resource is time and with automation on your side, you can better focus on actually addressing these issues and giving them the well-deserved time they need.
Many industries, from manufacturing to healthcare, have already been transformed by automation and this is only set to continue. By harnessing the benefits of automation, a transformation can take place in schools, colleges and universities.
The future of education might be undefined, but it's clear a more student-centric approach that incorporates automation, AI and machine learning is on the horizon.
To learn more about driving more effective processes in your institution, contact Culture Shift today.